Kverneland 6500F
High Performance Fixed Chamber Baler
Full roller fixed chamber baler with a bale diameter of 1.25m
Highlights
2.3m extra wide pick-up for increased intake speeds
SuperCut 15 knife pre-chopping system
PowerMax bale chamber with 18 ribbed profile rollers
Patented PowerBind net system
Intuitive control with the Focus 3 & ISOBUS terminal
High Performance Fixed Chamber Baler 
Kverneland 6500F is the specialist baler for heavy silage conditions. The bale chamber is formed by 18 ribbed profile rollers which ensure maximum bale density and superb bale rotation in all conditions, while power requirement is also kept to a minimum for more efficient operation.
When deciding what equipment to purchase, it is not always easy to find the optimal solution in the broad market offering of today. Technology is developing fast and tractors and implements are more and more equipped with high tech electronics. We understand this complexity and are committed to provide you with easy farming solutions. Therefore these cost-efficient ISOBUS Universal Terminals, IsoMatch Tellus PRO and IsoMatch Tellus GO+ are made for easy machine control and efficient farming.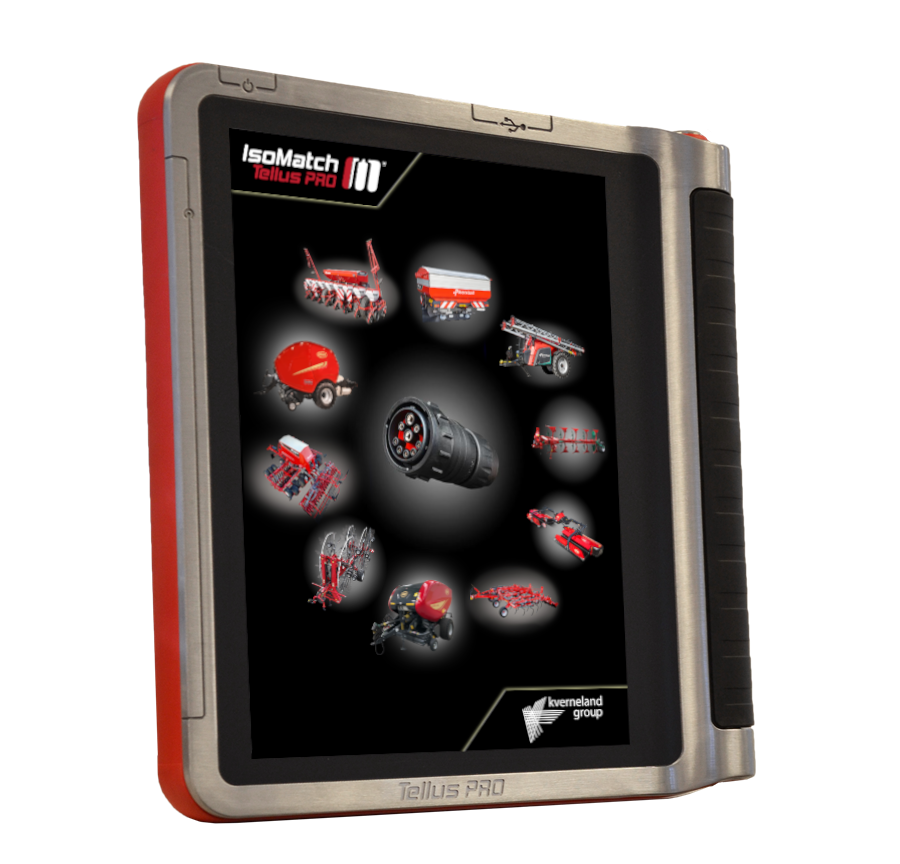 With its advanced hardware and software features, the IsoMatch Tellus PRO provides the optimal precision farming solution for an all-in-one control system inside your tractor cab.
IsoMatch Tellus PRO is the centre for connecting all ISOBUS machines and a platform for running precision farming applications. It offers everything a farmer needs to get the maximum out of his machines and crops, as well as cost savings in fertiliser, chemicals and seeds by using automatic section control and variable rate control. With the unique dual screen functionality it gives the farmer the opportunity to view and control two machines and processes simultaneously. 
Work easy. Be in control.
IsoMatch Tellus GO+ is especially developed for controlling the machine in a simple way. The farmer is in full control of the machine in exactly the way he wants. Easy set up the machine with the soft keys via the 7-inch touch screen. And, optimal control while driving, just use the hard keys and rotary switch. Controlling the implement has never been so easy.
This can be you your first step into Precision Farming
IsoMatch Tellus GO+ makes it easy to control any ISOBUS machine from your tractor cab. IsoMatch GEOCONTROL enables you to achieve higher yields, lower costs and do your work with less hassle. This licence key is divided in two parts, Section Control and Variable Rate Control, which are available from the IsoMatch Shop. Now you can buy the specific functionality that you need.